Mental health professionals interested in leasing at The Curtice Center are encouraged to contact us. See FLOORPLAN page for building details.

FULL-TIME TENANTS:
Offices ONE, THREE, FOUR, & UPSTAIRS are all occupied
.
PART-TIME TENANTS:
Office TWO is available for hourly or daily lease. Part-time & hourly tenants enjoy a serene, furnished, handicapped accesible office and access to rear parking. Mail, internet and technology options are available for nominal monthly fee with our Pro-Pack. Scheduling conveniently done online. Tenants' link to access:
ONLINE SCHEDULING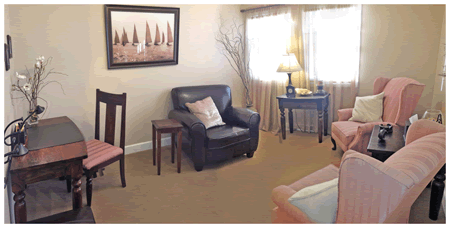 5860 S. CURTICE STREET, LITTLETON, COLORADO 80120 • PHONE 303-347-8498 • EMAIL:
DMAX@DANAMAX.COM
office availability

UPSTAIRS COMMUNITY ROOM SPACE AVAILABLE FOR LEASING ON A LIMITED BASIS.
Part-time Shared office "two" available for hourly or daily rental.
LEASING
UPSTAIRS COMMUNITY ROOM:
This multi-functional, upstairs space, currently used as a therapist office, is is available for lease for special events such as lectures, groups and general use by both full-time and shared-space tenants, on a limited basis. Access to presentation projection and seating provided as needed. To inquire about leasing information and availablity, please contact us.